By Jolene Roehlkepartain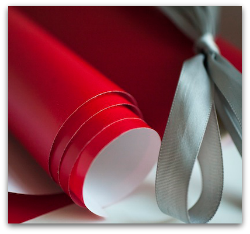 "The funny thing about the holiday season is that the line between discretionary and necessity gets blurred." —Scott Krugman, National Retail Federation
With the holidays around the corner, the mad dash to get everything done can make it easy to blow your holiday budget. How do you decide how much to spend during the holidays? Or do you deal with the financial aftermath when the holidays end? If so, you're not alone. Almost 14 million Americans are still paying off their holiday bills from last year! With that in mind, we've pulled together some guidelines to help you break out of the holiday spending-debt cycle.
Tips for all parents
Two out of five Americans say they spent more than they intended during the holidays last year, reports Time magazine. One out of 20 admitted they went way over the budget.
Your kids learn a lot about how to manage money by the way you use money. Talk about holiday shopping with your kids. Explain how you develop a budget, how you decide what to buy, and how to use your money well.
Create a holiday budget. List everyone for whom you plan to buy a gift. Set a budget for each person. Then follow that budget.
Shop when you feel less rushed. Stores are less busy during the evening hours. Shopping online can help you compare prices.
Include holiday giving (such as giving money to charity) as part of your holiday spending. See which organizations your kids want to support.
Set a deadline for gift ideas. A big budget buster occurs when your child tells you what he or she desperately wants the night before your holiday celebration and you dash out to find it.
Shop early and ship early. It won't help your budget if you buy items at the last minute for a deep discount and then need to overnight the packages to their destination.
Know when to stop. Too many people overspend when they keep finding more gifts to buy.
For parents with children ages birth to 5
Find someone to care for your young children while you do your holiday shopping (or swap times to care for kids with another family). Parenting young children while also shopping for holiday gifts can become stressful and force you to rush purchases, especially if the stores are crowded and kids get overwhelmed.
Shop for educational toys for young children, such as age-appropriate counting beads, puzzles, and building toys. For award-winning toys that fit your budget, your child's interests, and your child's age, use the Quick Product Finder at Parents' Choice.
Don't go overboard with spending for holiday gifts for infants and toddlers. Many parents talk about how much joy their infants and toddlers get out of the boxes the presents come in—sometimes more than the actual contents.
For parents with children ages 6–9
Encourage kids to list gift ideas other than computer and video games. Some kids can spend too many hours a day playing games. Encourage them to find gifts that get them to move, play with others, and develop their interests.
Find award-winning toys and games from the Parents' Choice Awards. Use the Quick Product Finder at Parents' Choice, where you can plug in your budget, your child's age, and your child's interests.
See which gifts your child may wish to create. Who doesn't enjoy a framed picture of a child's drawing or art project?
For parents with children ages 10–15
Set aside a small budget that kids can use to buy gifts for family members and friends. At first, set a budget for one or two friends and a couple of family members. This teaches kids how to follow a budget and decide what to give. (At first, it's better to shop with kids and you control the money. Otherwise, some kids may just end up spending the money on themselves.)
Be honest with your kids about your holiday budget. If you plan to spend $25, $50, or another amount on each child, say so. That helps kids create gift lists that fit your budget. (It also helps them see that limits exist.)
Shop with your kids. Get their ideas about what to give to family members. Talk about why some presents are more appropriate than others. This teaches kids about how to shop well for holiday gifts.
For parents with children ages 16–18
Consider setting a goal of giving one large (or one expensive) gift to your teenager and a couple of smaller items. Many teenagers want bigger, more expensive items, which can quickly bust your budget if you don't set limits in advance.
When you give gifts to teenagers, make sure you don't have expectations about how they'll use their gifts. Some teenagers swap what they receive with other teenagers. Some teenagers lose their gifts. Giving also involves letting go and allowing the recipient to decide how to use the gift.
Tap into teenagers' sense of giving. Ask them what they'd like to give. Giving of your time is just as important of a gift as buying something. For example, maybe your teenager gives a gift of helping her grandparents set up an email account or giving an uncle two hours of child care.